Hijinks continue in the second book of the series
Pap and Pup's adventures in book two include a lawsuit against the Russian government for entrapping a well-known Congressman in a honey trap, attempting to liberate all the chimpanzees at the Bronx Zoo, and representing the unforgettable Lydia Lowlace in lawsuits against unscrupulous strip club owners and video game makers who have taken advantage of her sudden fame.
No "objections" from the critics!
"Never in the history of human endeavor have so many paid so much to so few." ~ Winston Churchill
"I regret that I have but one life to give for my lawyer." ~ Nathan Hale
"Old lawyers never die, they just raise their fee." ~ Gen. Douglas MacArthur
"Let them eat tortes." ~ Marie Antoinette
"PLEASE PASS THE TORTS is a worthy successor to Morrison's earlier work, TORTS "R" US.  That book had me laughing hysterically from the first page to the last. It is by far the wittiest work in the English language since I wrote The Importance of Being Earnest." - Oscar Wilde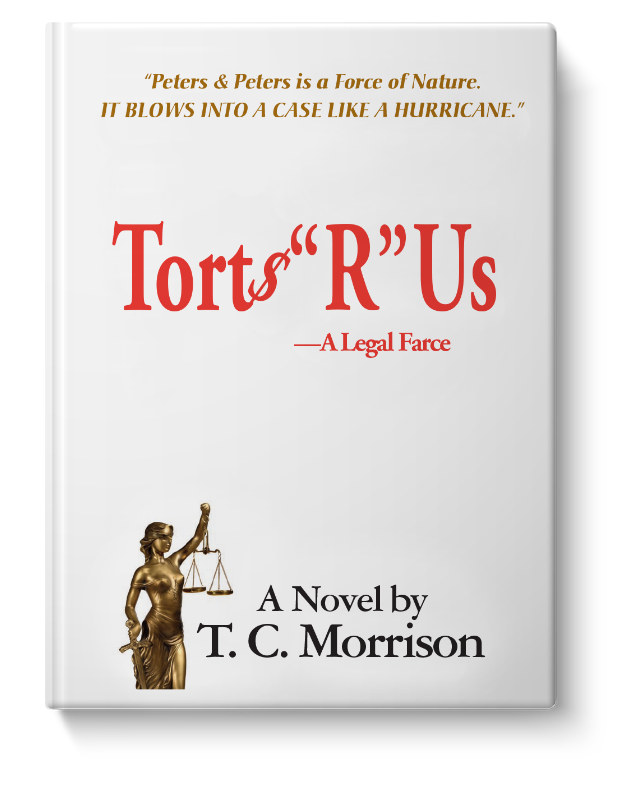 Be sure to read (or listen to) the book that started it all
Believing that most attorneys take themselves and their cases much too seriously, and that there is much humor to be found in modern litigation, Morrison set out to write a legal farce that captures some of the humor and absurdity in modern litigation, particularly class action litigation.
Now available as an audiobook on Audible.
Patrick A. Peters ("Pap") and his twin brother Prescott U. Peters ("Pup") are lawyers with a distinctive eye for opportunity. Pap convinces Pup who is a good lawyer despite having gone to Yale Law School that they should leave their respective big-firm practices in New York City to start up a hopefully lucrative practice as plaintiffs' class action lawyers.
The brothers meet a variety of clients, judges, and lawyers as they embark on a resourceful and unique approach to lawyer-client relationships all inspired by actual court cases.
Written with humor and parlance that only comes from a depth of legal experience, Morrison captures the trials and tribulations of human behavior that strike a chord with every reader.
"TORTS R US is an extremely valuable contribution to our nation's history.  Jefferson and I were both lawyers and Madison studied law.  While we attempted to design a system of government that would endure for the ages, our first priority was to insure that the system we created would allow lawyers to thrive and prosper.  Morrison's insightful book shows that we succeeded beyond our wildest dreams." ~ John Adams
Do not miss this book!
"The book is hilarious from beginning to end!  There were times when I laughed out loud.
The word plays are very clever (read slowly to really appreciate them) and the plot manages to skewer many of our long-held personal preferences, while not being mean-spirited.
The real "send up" here is the class action industry, which suffers quite a (deserved) roast."
Maureen Bateman
Long ago associate of Davis, Polk & Wardwell and past general counsel of United States Trust Company and then general counsel of State Street Bank and Trust Company.
No Sacred Cows
Legal thrillers are a dime a dozen, but a legal farce? How is that even possible? Lawyers aren't funny, are they?
T.C. Morrison's TORTS R US proves not only that a legal farce is possible, but that it can be done with wit, style and good humor. Be forewarned, however -- no one is spared, not lawyers, not judges, not the law, not even clients. TORTS R US is a take down to remember. Don't miss it.
Andrew Schau
Retired litigator and former Partner, Patterson Belknap Webb & Tyler in NYC.
Do yourself a favor and buy this book!
In these stay-at-home days, a great way to feel you're at a really fun party with your best friends is to settle in with a book like this, full of great story-telling, warmth and humor. I never expected to be so marvelously entertained by a book about lawyers and lawyering-- laughing out loud in almost every chapter until the tears rolled down my cheeks.  I was drawn to all of the characters--judges, litigators, clients, staff and families-- because each is presented sympathetically even while being thoroughly roasted. This is a book I shall enjoy re-reading and so it will always remain on my bookshelf, and my friends will just have to buy their own copies. I encourage you, the reader, to buy one, too.  You will not regret it!
Janet Graaf
Retired college professor and avid reader.